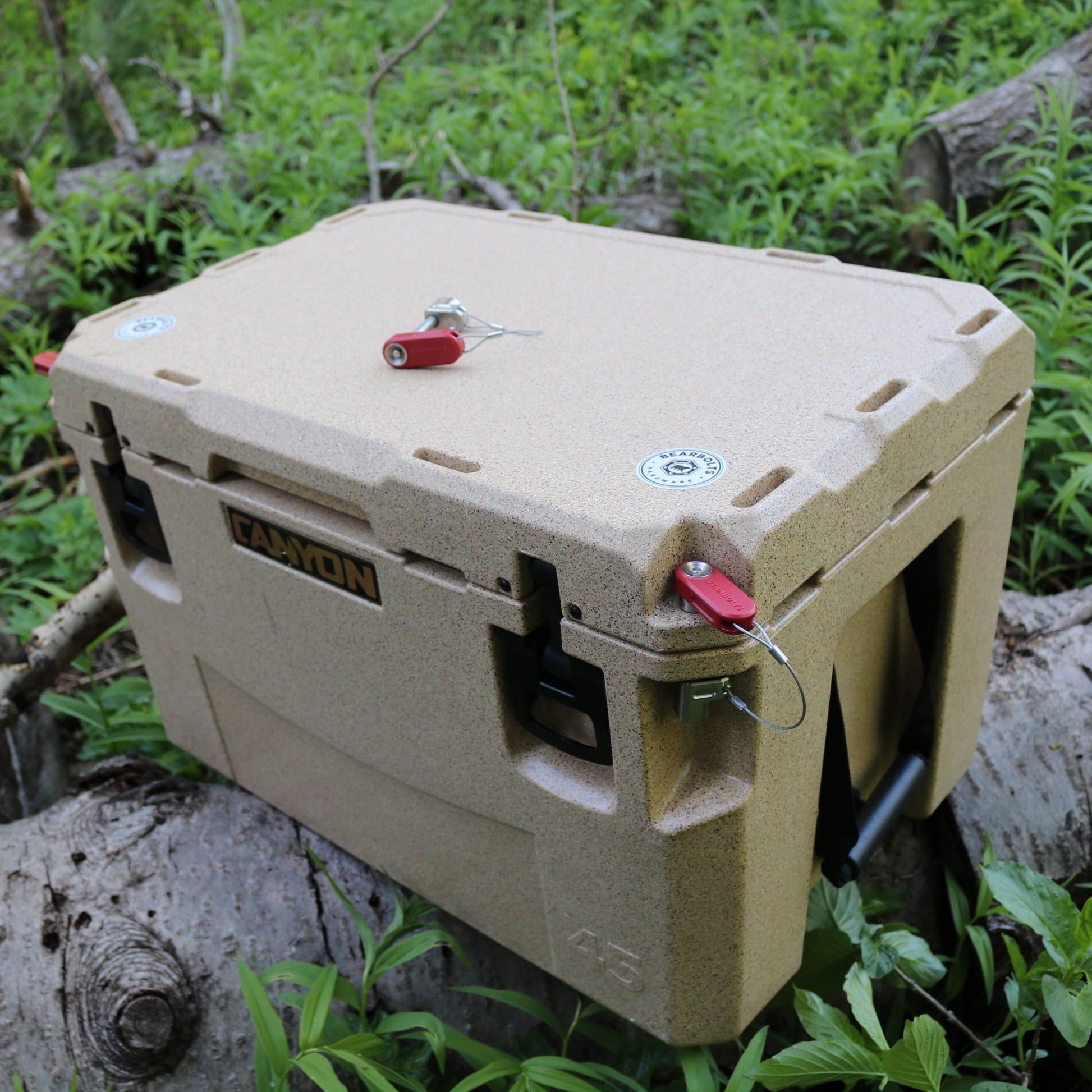 BearBolts, Set of Two
Regular price
Sale price
$99.99 USD
Unit price
per
Sale
Sold out
Share
View full details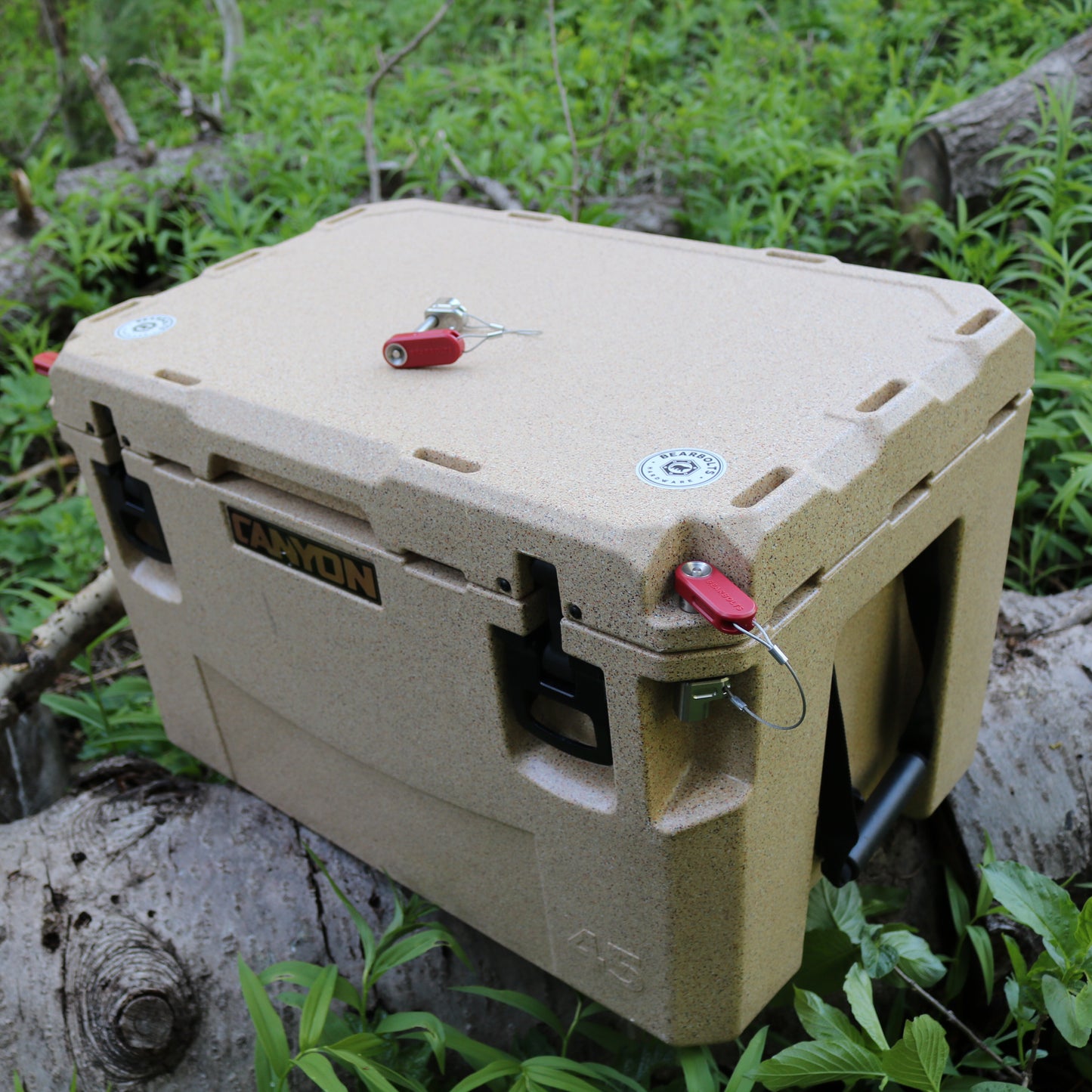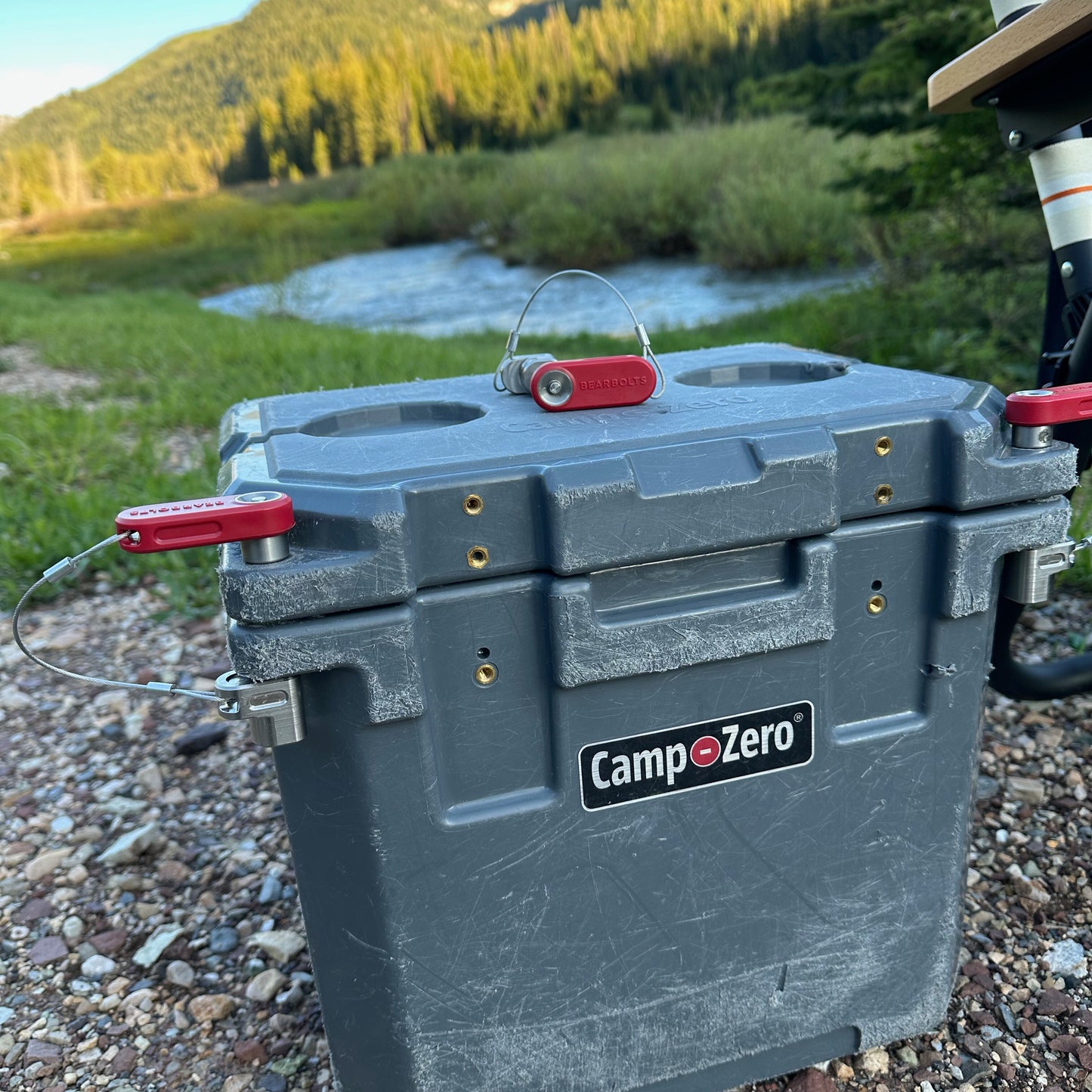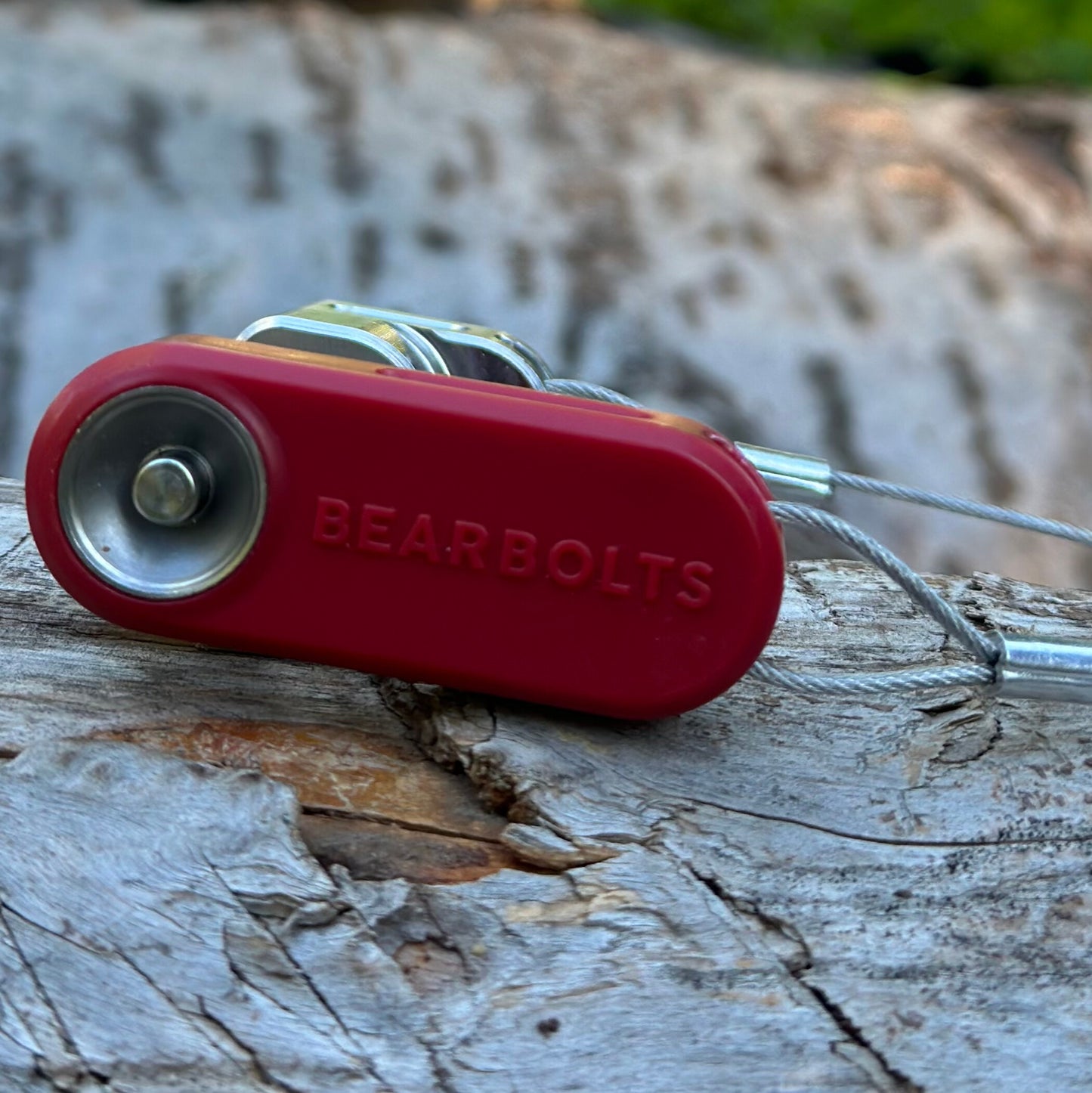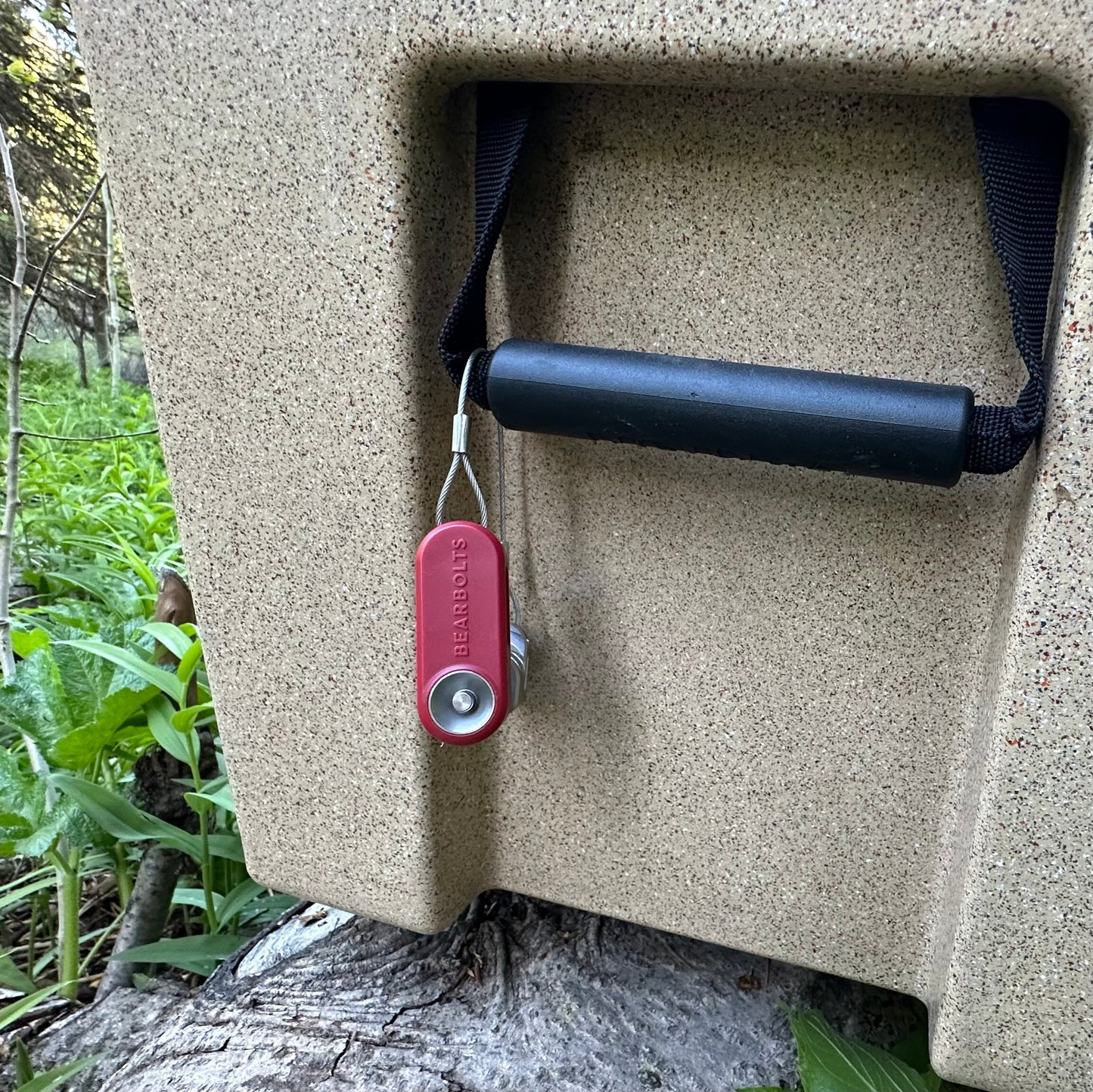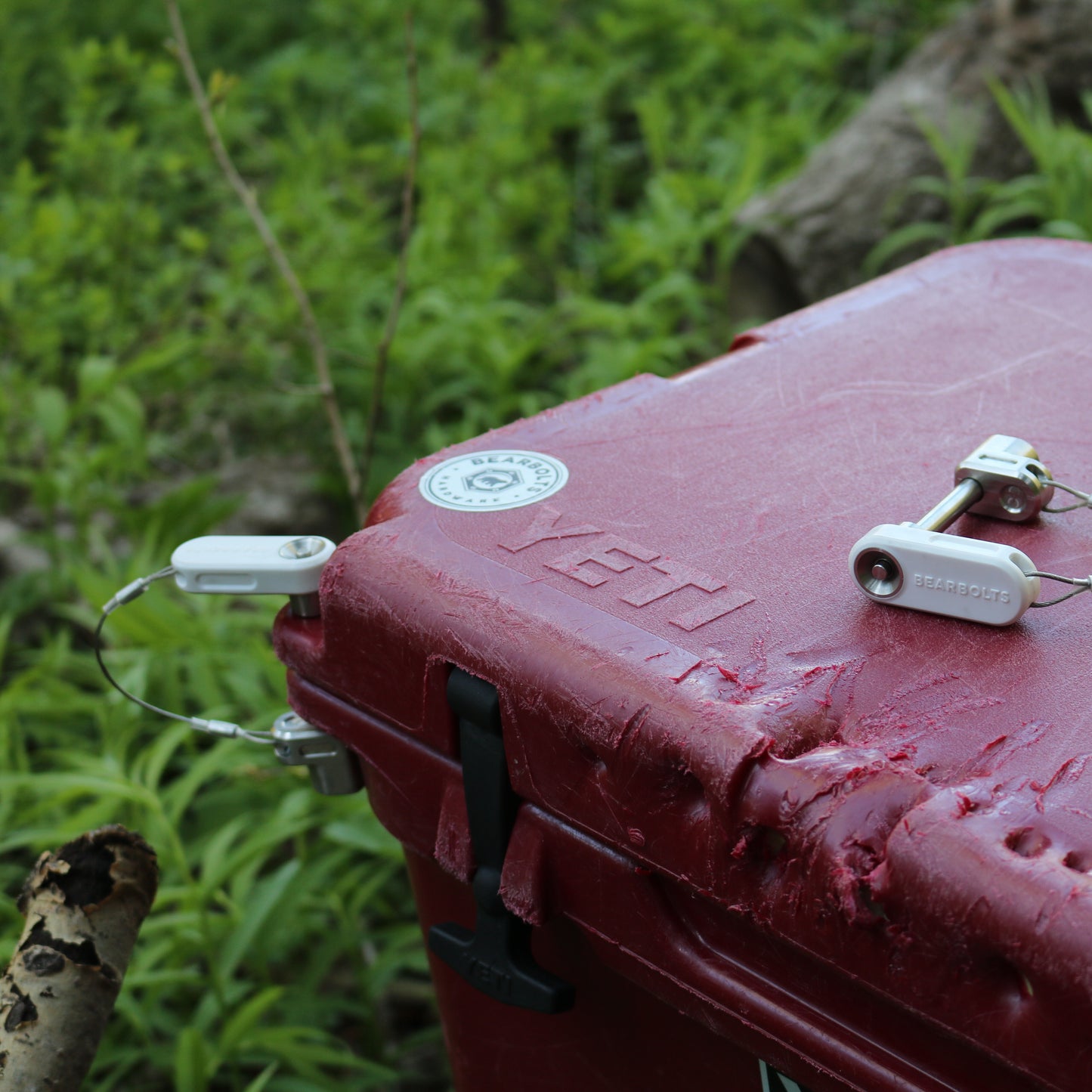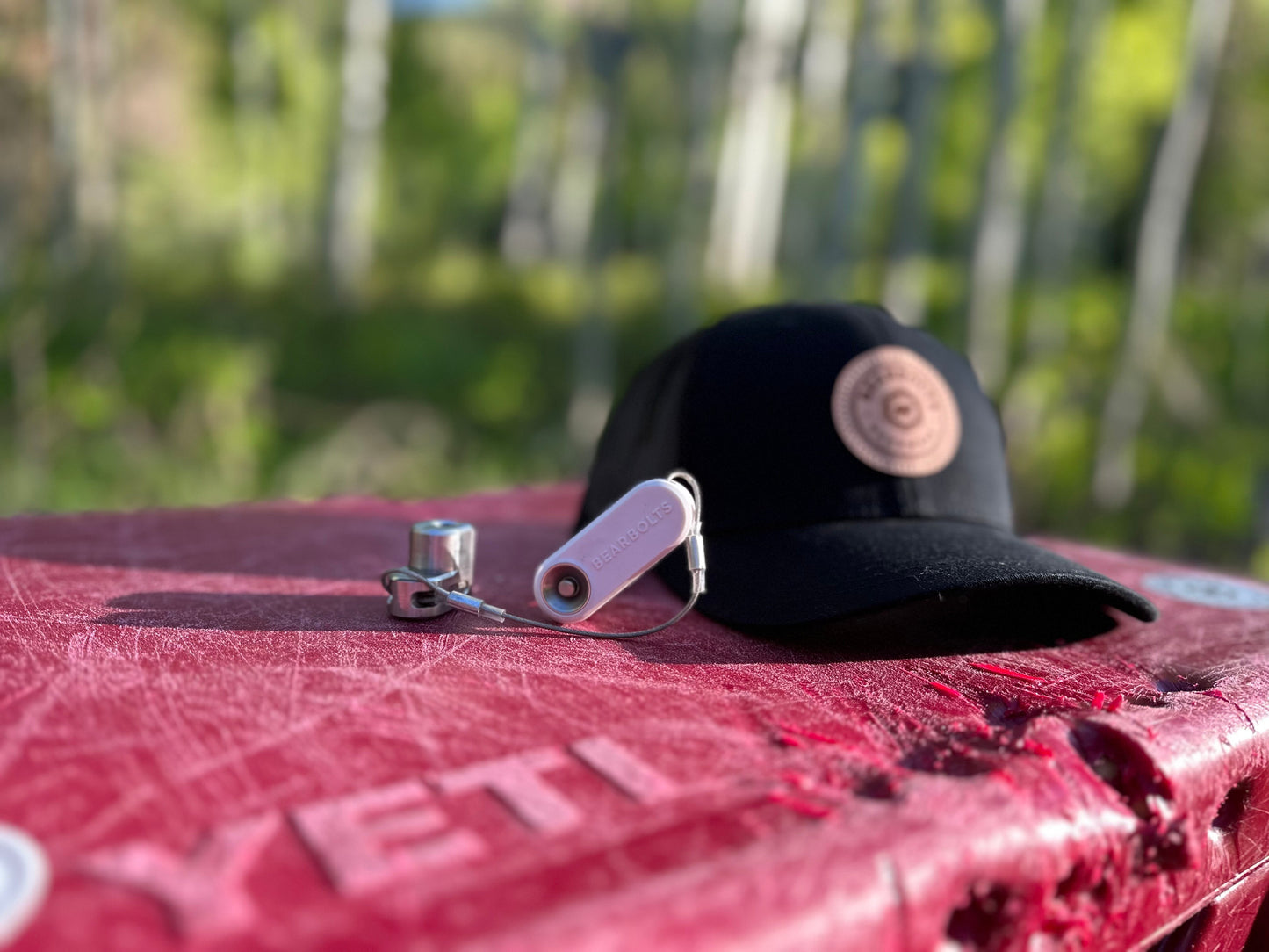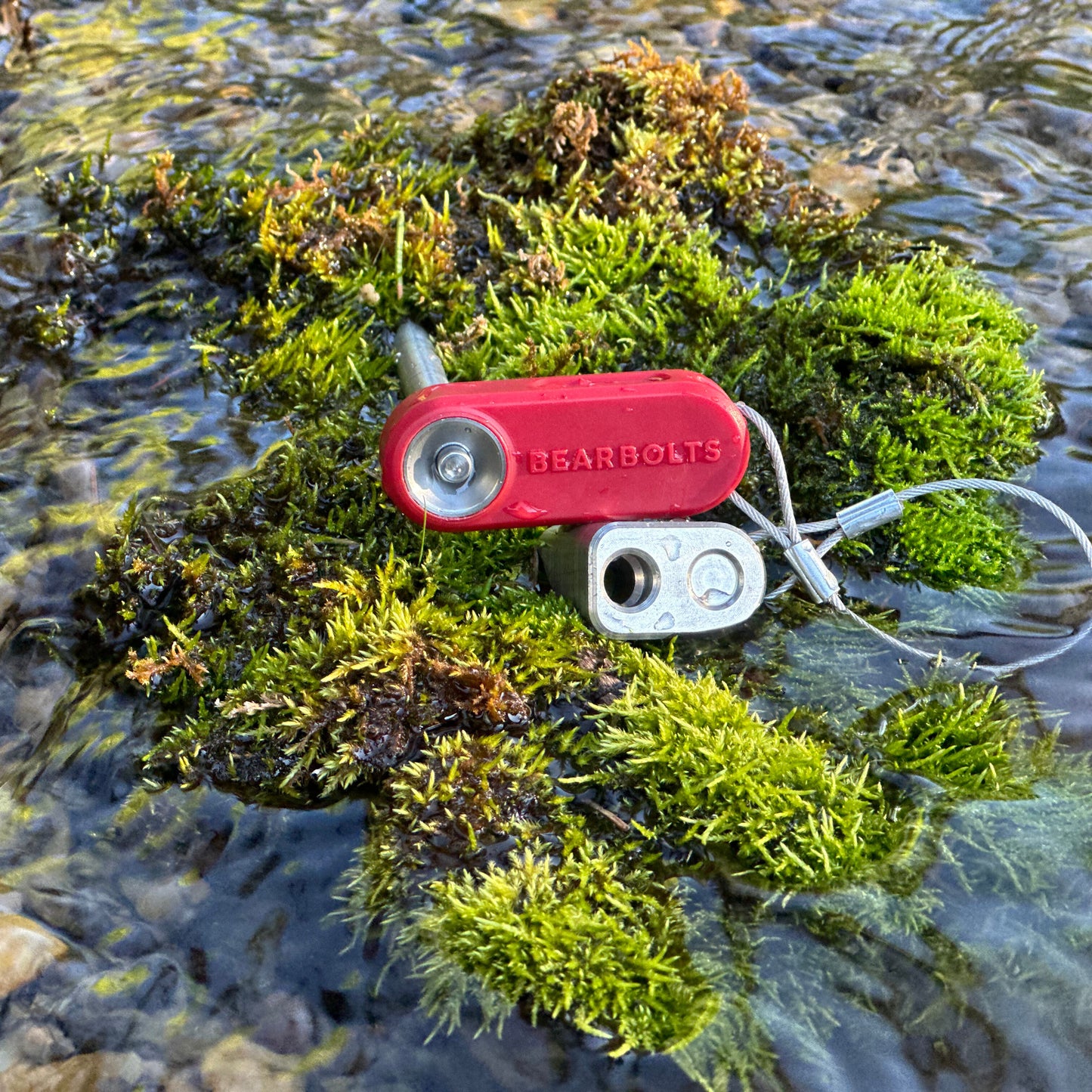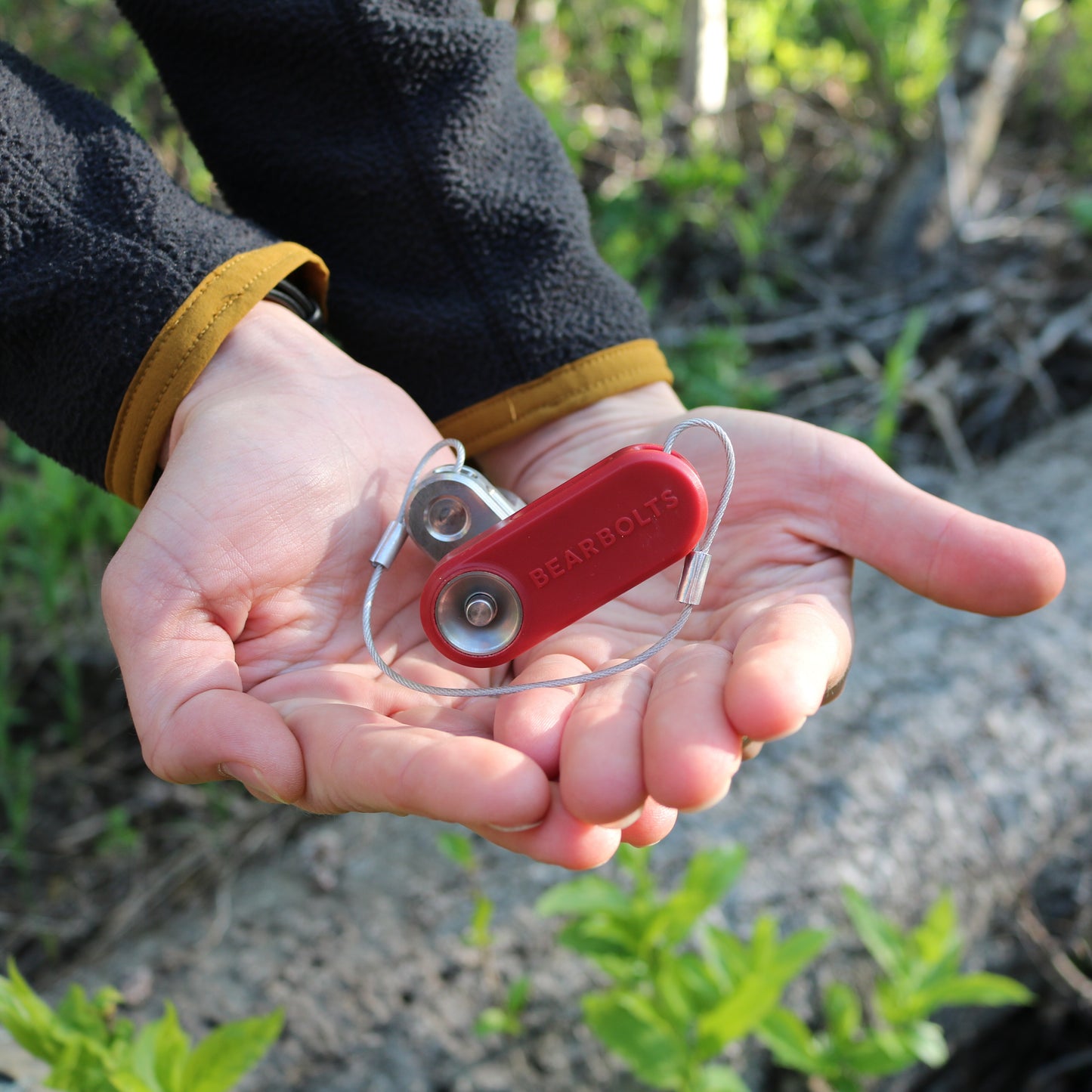 Product Description
Bear Proof your cooler with BearBolts
BearBolts are adjustable to three sizes and fit the most common IGBC-rated coolers on the
market. With our keyless bear proof lock, you can easily access your food and
drinks without worrying about bear intrusions. We have designed it with
quick-release technology, making it easy to install or remove in seconds,
compared to the hassle of using a padlock.
Your Cooler's Bear Resistance
Many coolers on the market boast of being bear-resistant but
they all must be locked to achieve this rating. 
For a cooler to truly be bear resistant, it needs to be secured by bear-proof locks. By investing in a pair of Bear Bolts for
your bear-resistant cooler, you're taking the necessary steps to safeguard your
provisions and stay in compliance with wildlife regulations. You also contribute
to the protection of these magnificent creatures.
Hassle-Free Bear-Proofing
Bear Bolts provide a hassle-free way to bear-proof your
cooler with a keyless system. Simply adjust the Bear Bolt to fit your
cooler and secure it with ease. The quick-release technology enables effortless
installation and removal within seconds, as compared to the cumbersome padlocks
Precision Design
With a distinctive flat-sided design, Bear Bolts have been designed to fit even the tightest cooler geometry.
The oblong side ensures that the receiver cannot be pulled through bottle
openers commonly found on coolers. Crafted from corrosion-resistant stainless
steel, Bear Bolts are ideal for any weather conditions and are built to last a
lifetime.
High Visibility and Secure Attachment
Never lose track of your Bear Bolts, thanks to the bright
red-orange color that makes them instantly visible, allowing you to quickly
ascertain the lock condition of your cooler. Additionally, each Bear Bolt comes
with a lanyard to securely fasten the lock to cooler handles or elsewhere, so
you don't misplace them.
Superior Material and Quality
Constructed from precision-machined 17-4 stainless steel,
with hardened stainless ball bearings, Bear Bolts are synonymous with strength
and reliability. The receiver is machined from corrosion-resistant 304
stainless steel, guaranteeing the highest quality and fortitude required for
safeguarding your coolers.
Contributing to Wildlife Preservation
By using Bear Bolts, not only are you protecting your food
but also contributing to the well-being of wild bears. When bears access human
food, they become food-conditioned, abandoning their natural foraging behaviors
and becoming a threat to human safety. Proper food storage using Bear Bolts is
essential in preventing this issue, ensuring a thriving bear population and
fostering a harmonious coexistence with humans.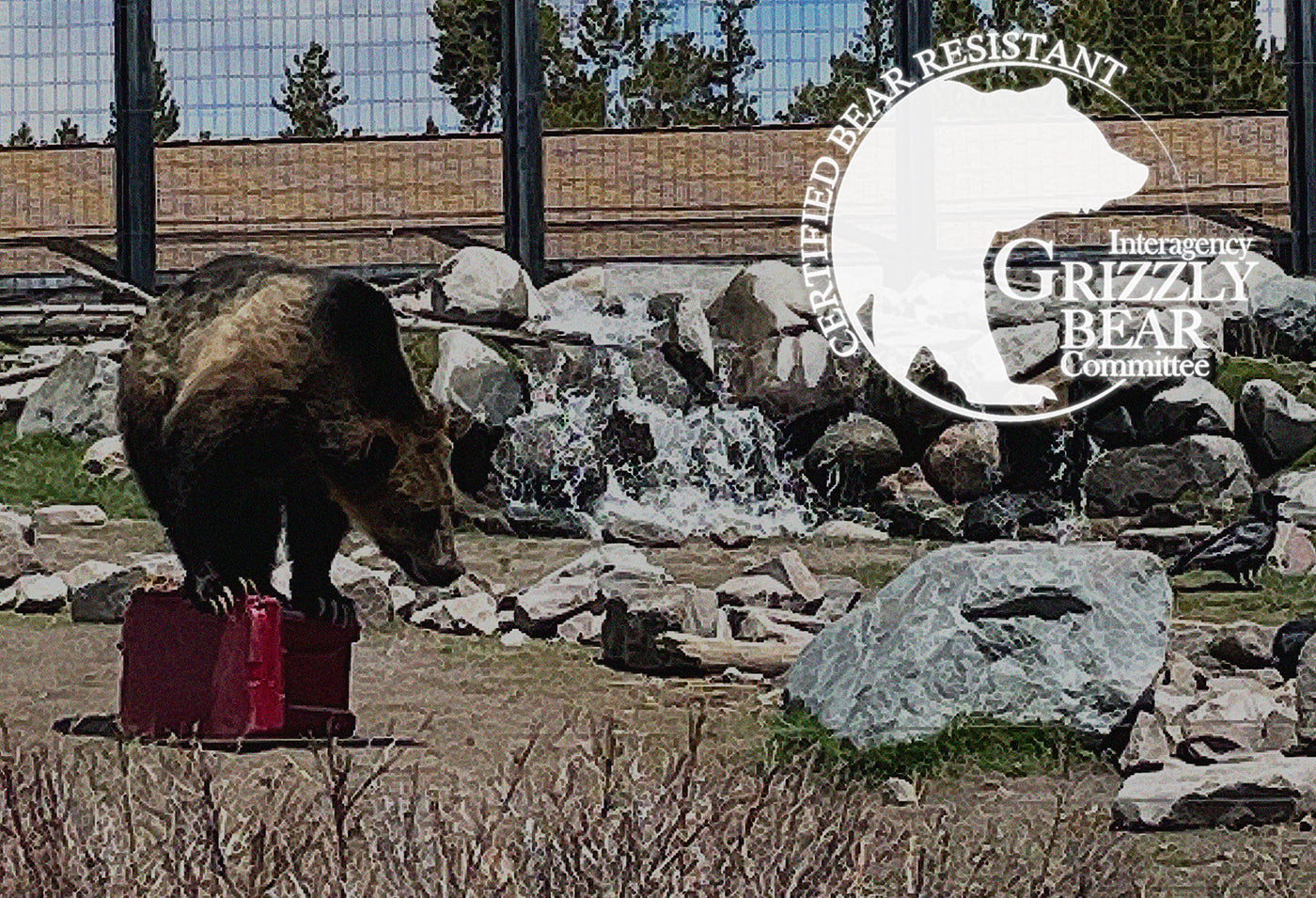 It's Certified!
Introducing BearBolts - the only quick-release bear lock that is certified by the Interagency Grizzly Bear Committee (IGBC), the leading authority on bear-resistant products. BearBolts is specially designed to bearproof coolers and hard-sided cases, making it the perfect addition to your
outdoor gear.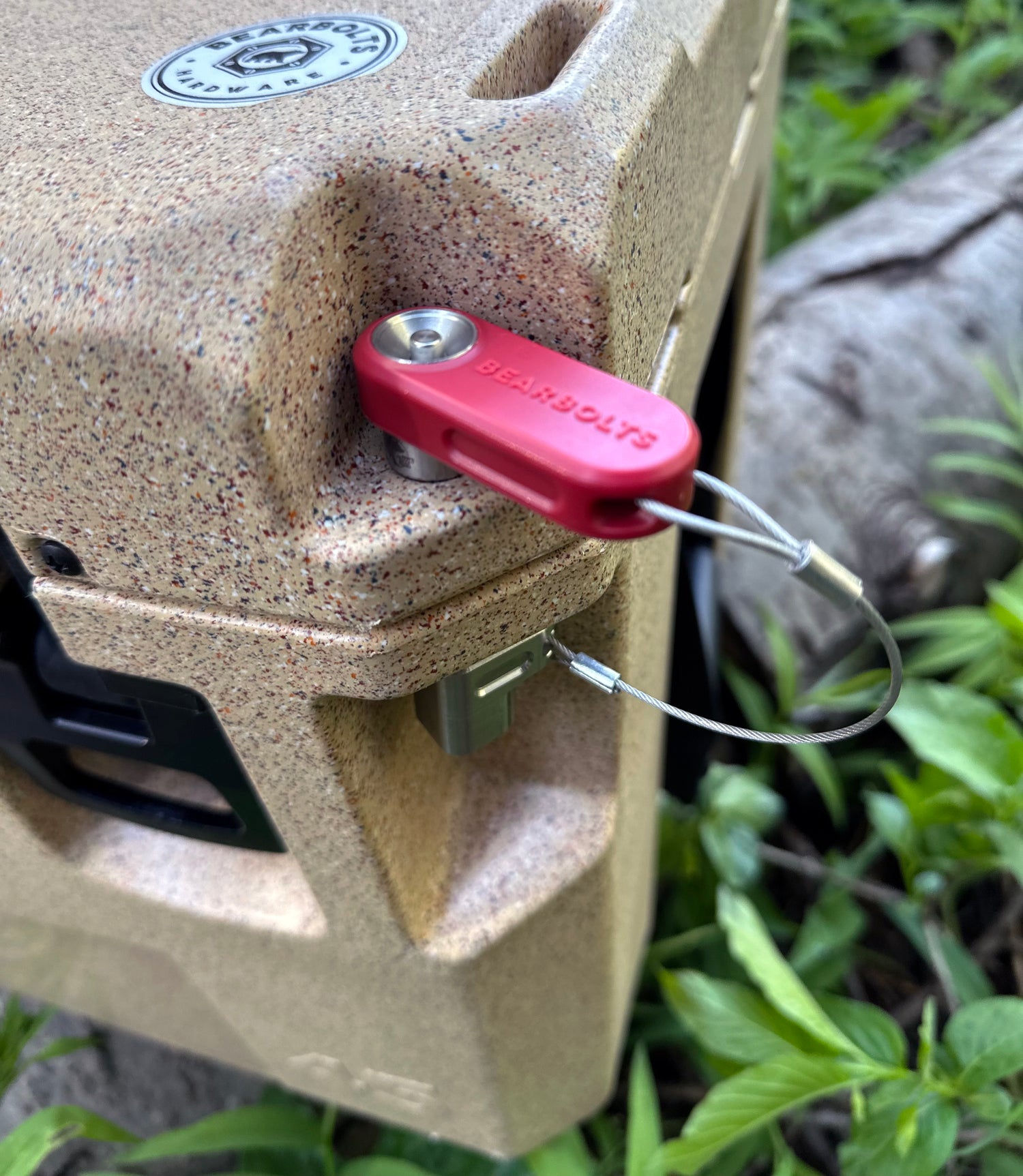 Custom Designed
Designed with the highest quality materials to meet your demanding conditions. BearBolts keyless bearproof locks are machined from solid billets of stainless steel with a sturdy ABS injection molded handle.
Buy Now
Live Testing at West YellowStone